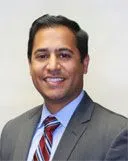 Dr. Shah graduated from Union College with Magna Cum Laude distinction while obtaining his Bachelor of Science (BS) as well as a Master's in Business Administration (MBA) in healthcare management. He then completed medical school at Albany Medical College in Albany, NY. He continued his medical training with a five-year General Surgery residency at Virginia Commonwealth University in Richmond, Virginia. During his time there he was nominated by his peers to lead as the Administrative Chief Resident.
After completing his General Surgery training earning board certification from the American Board of Surgery, Dr. Shah went on to specialize his training in Colon and Rectal Surgery at the Swedish Colon and Rectal Clinic in Seattle, Washington. It was here that he further honed his skills in all aspects of colorectal care including robotic, laparoscopic, endoscopic, and clinical skills. He had the opportunity to train with one of the leading robotic surgeons in the nation. Once he completed his fellowship, he went on to complete his board certification in Colon and Rectal Surgery.
Dr. Shah specializes in the diagnosis and management of all diseases of the colon and rectum - benign and malignant. His specialty areas include colon and rectal cancer, inflammatory bowel disease, such as Crohn's disease and ulcerative colitis, and diverticular disease as well as hemorrhoids, abscesses, anal fissures and fistula, and endoscopy. He is accepting new patients at the Central Austin office location.
From Dr. Shah,
"I am thrilled to care for the patients of the Austin and greater Austin community. It is never easy to visit a Colon and Rectal Surgeon and it is therefore my goal to make your visit and care with me as comfortable and seamless as possible. Colorectal care can range from simple to complex and it is important to discuss all modalities of treatment and come to a mutual decision as to a plan of care. I have a particular interest in colon as well as rectal cancer, anorectal disorders, diverticular disease, and operative management of inflammatory bowel disease. I am committed to providing excellent, state-of-the-art care in the evaluation and treatment of all diseases and disorders affecting the small intestine, colon, rectum and anus.
In my spare time I enjoy spending time with my wife and daughter exploring all that Austin has to offer. I also enjoy biking, photography, golf, and tennis."